Half a hundred of days has passed. More offices and businesses has reopened. Another u-turn from the Finance Minister stating that we don't have to pay compounding interest for extending our car loans during the moratorium.
MAIN UPDATES
Malaysia 6th May CCP Virus COVID-19 Update
+45> 6428 Total Confirmed Cases (1 imported cases)
+1 > 107 Deaths (1.66% of total)
+135 > 4702 Total Recovered (73% of total)
22 ICU (9 require ventilator)
MCO UPDATES
A total of 147 people have ran away from quarantine centers says MOH DG Dr Noor Hisham. (Source)
Penang announced RM76 million stimulus package for the people of the island state. (Source)
Cops are looking for the nine foreigners who have escaped quarantine centers. (Source)
KTMB, Malaysia's interstate rail line has been put into the spotlight as evidence of people flouting MCO in crowded trains has been shared online. (Source)
You now don't have to pay compounding interests on your hire purchase loans (car loans) as the Finance Ministry has made another u-turn. (Source)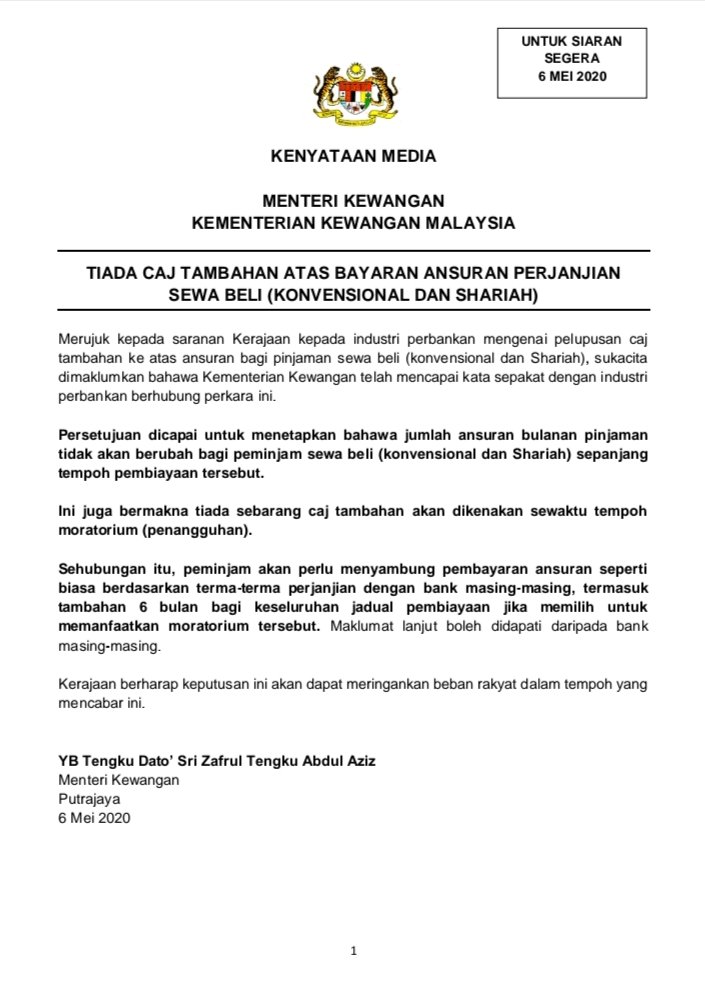 GLOBAL UPDATES
New York state has added 1,700 previously undisclosed deaths at nursing homes and adult care facilities, raising the death toll within those institutions to 4,813.
Virgin Atlantic says it will cut over 3,000 jobs — around a third of staff — after the coronavirus put airlines under "unprecedented pressure".
India has reported 3,932 new COVID-19 cases and 175 new deaths, raising the country's total to 46,437 with 1,566 confirmed deaths. This is the largest number of new cases & deaths reported in India so far.
Australia and New Zealand are to reopen flights only when the virus risk is eliminated. (Source)
France have reported 330 new deaths in the last 24 hours, the highest since April 29, raising the country's death toll to 25,531.
Brazil has confirmed 2,312 new coronavirus cases and 157 new deaths today, raising the country's total to 110,156 with 7,485 confirmed deaths.
Many in Indonesia are worried about the job loss more than the virus. (Source)
USA continues to press on China for causing the pandemic as they hid facts and findings from the WHO and the world to save face. (Source)
Brazil has confirmed 2,312 new coronavirus cases and 157 new deaths today, raising the country's total to 110,156 with 7,485 confirmed deaths.
The USA recorded +23,716 new cases, raising their total to 1,216,288 cases.
A researcher in Pittsburgh that is working on the virus cure is found dead in his house. (Source)
Belgium to reopen shops on May 11 under strict social distancing rules, prime minister says.
Germany's Bundesliga football has been given permission to restart behind closed doors in the second half of May, sources have told dpa after a video conference of Chancellor Angela Merkel with state premiers.
The Russian Minister of Culture Olga Lyubimova has tested positive for COVID-19. She is the fourth member of the Russian cabinet to contract COVID-19. PM Mikhail Mishustin, Construction Minister Vladimir Yakushev & his deputy Dmitry Volkov has also tested positive for the virus.
Iran records 1,680 new cases and 78 deaths in past 24 hrs in Iran. Total cases now 101,650 and deaths 6,418. This is the second daily increase from cases less than 1,000 and deaths less than 100.
Updates till here today.