You already know what COVID-19 is, let's get down to the updates. Updates will be in point forms with summary of the news articles or summary images. Let's refer to Movement Control Order as MCO in this page. Please call 03-88882010 or 03-88888126 or visit any police station nearby to inquire more information about the MCO.
MAIN UPDATES
+156 > 2626 Total Confirmed Cases
+3 > 37 Deaths
+91 > 479 Recovered (Most in a day so far)
94 ICU (62 Require breathing support)
8213 Total Pending result
39663 Total tests screened
MCO UPDATES
If you came back from overseas, please do quarantine yourself at home for 14 days. Even from your family members. -MOH DG Noor Hisham
If you are a healthcare professional and would like to volunteer, please do so here: https://twitter.com/DrAdhamBaba/status/1244501963191902208
Phase 2 MCO to begin from 1st of April, all stores to open 8am-8pm. (Source)
There might not be bazaar Ramadan in the coming fasting month starting from 24th April 2020.
7-11 staff tested positive for the COVID-19 at Jalan Bunus, right in the middle of KL City center. (Source)
Hulu Langat residents are still moving around despite the Enhanced MCO placed on them. (Source)
There are only 34 districts in Malaysia with zero cases of the coronavirus. But, we still cannot travel to or from that area as the virus travels around unseen by the naked eye. (Source)
Penang's Air Itam wet market is to be re-opened with strict measures. (Source)
Quarantine centers around the nation are equipped with Wi-Fi and provide 4 meals a day to the people being forced to stay there. (Source)
Police has reprimanded 828 individuals as of 30th March 2020 for violating the MCO. (Source: MKN)
The police together with the army has conducted over 1520 road blocks and checked over 257,287 vehicles.
TNB to estimate your electricity bills throughout the MCO period based on your last month's bill. You should see savings as you're staying at home more. But it will be readjusted after the MCO with actual readings. (Source)
Face masks ceiling price to be set at RM1.50. (Source)
First batch of COVID-19 patients from Hospital Raja Permaisuri Bainun Ipoh are recovered and allowed to go home. (Source)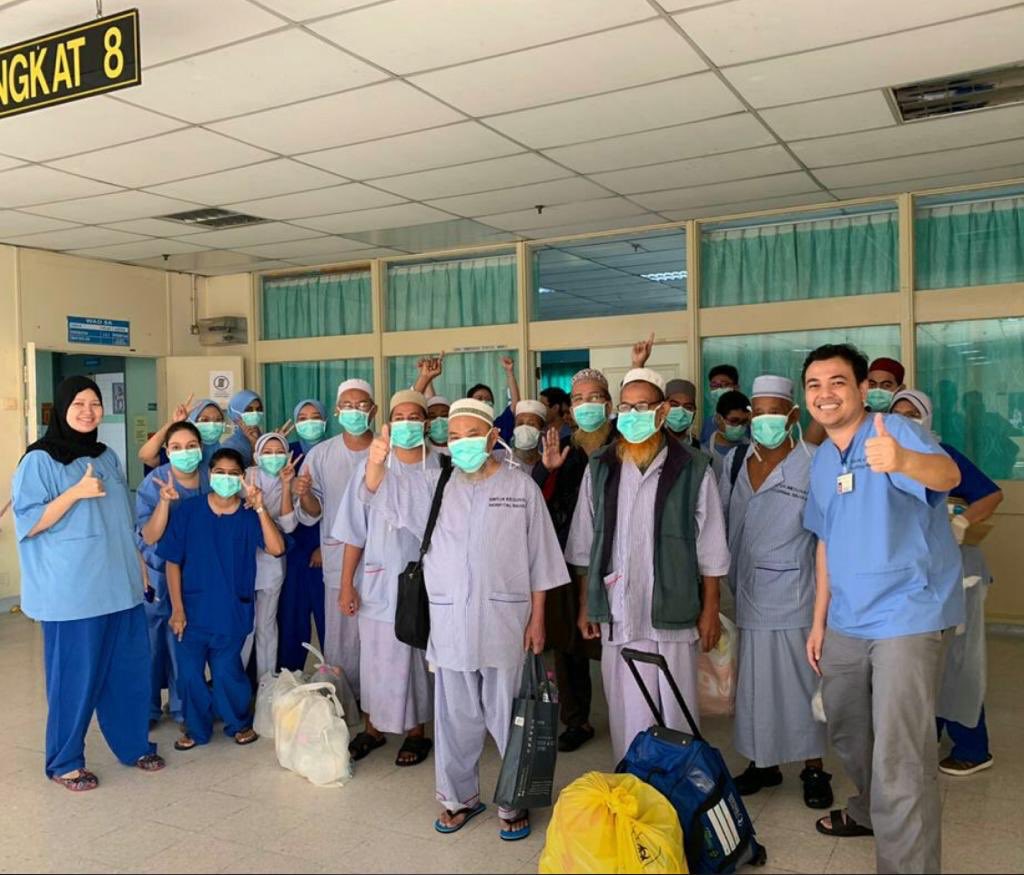 Lockdown announced in Menara City One in KL, the first condo under full lockdown as 17 positive cases has been reported. (Source)
Do support your local hawker stalls by buying in bulk if you can afford it. These businesses are the hardest hit in this COVID-19 MCO lockdown. (Source)
Anti-viral health tags has no effect in fending of the virus. (Source)
A total of 86 people were charged in court today in several states across the country for violating the MCO. (Source)
UiTM has confirmed that 8500 students at 35 campuses nationwide that are locked down in their dorms are provided 3 meals a day.
List of labs and hospitals related to the lab that do test service. You can call the hospitals/clinics for inquiries.
Lab: Pantai Premier Pathology Sdn Bhd:

Hospital Pantai Ampang In-House – RM750 by appointment, Drive Thru RM600 Ampang (0342892800)
Hospital Pantai Kuala Lumpur – RM650 Drive Thru (0391452813)
Hospital Pantai Ayer Keroh, Melaka – RM600– (05-6886608)

Lab: Lablink (M) Sdn Bhd (KPJ)
All KPJ hospital RM600-700
24hrs+ (Damansara RM600)
Lab: Neogenix Laboratories Sdn Bhd

Poliklinik MUC Bukit Bintang
Clinic (03-21425814), Doctor (0127477759)
RM650 In-House/ Walk-In, RM200 Rapid Test
Medipulse SS4 (03-74992911)
Drive thru RM580, RM700 In House

Lab: Clinipath (M) Sdn Bhd

Thomson Hospital Kota Damansara – RM580, Drive Thru (Appointment), 48-72 hrs result
Columbia Asia hospitals

Lab: BP Clinical lab Sdn Bhd (Glenmarie branch) (03-55699996) RM700 In House (0125251530, 0183772692, 0183215491)
Lab: Sunway Velocity Medical Centre, Cheras : (03-97729191)
Walk in : RM570 result in 24hrs
Sunway Hospital 03-74919191
Walk in : RM600 (by assessment)
Lab: Gribbles Pathology Sdn Bhd
All clinic that send to gribbles: RM700 (1-300-88-0234)
Sharani Qualitas Medical Group Sdn Bhd bangsar (DoctorOnCall)-RM600 Walk-In, In House RM700 (0379646307)
Bookdoc – RM700 (lab test) + RM300 (handling)
Gleneagles Kuala Lumpur – RM650, drive thru, Whatsapp Appointment (011-13013579)
OVERSEAS NEWS
China reports 31 new cases imported of the coronavirus, 0 new cases in Hubei for the 6th Day. (Source)
China's President said that the government will protect smaller firms that are affected by the outbreak. (Source)
Facebook donates 100M USD to news organization in hopes of keeping the people informed during the pandemic. (Source)
Autoshow in Detroit cancelled and venue is currently turned into a temporary COVID-19 care centre. (Source)
Nature is taking back the place that they belong to in New York as pumas are seen at the streets of Manhattan. (Source)
Spain recorded the most death in a day in the last 24 hours at 838 deaths due to the coronavirus. (Source)
Indonesia might raise their healthcare budget to cope with the outbreak to 5% of GDP as supposed to the self imposed limit of 3%. (Source)
Crude oil prices are tanking and it will be going down ever more. It has reached 20USD per barrel. Lowest in 18 years.
In entertainment news, Christopher Nolan's next thriller film, TENET still set to release on 17th July 2020 despite COVID-19 outbreak. (Source)
Maryland Governor Hogan issues stay at home order, says knowingly violating it is punishable by up to 1 year in prison or a $5,000 fine. (Source)
Saudi's King to pay for coronavirus patients' treatments. (Source)
World Health Organization (WHO): "There is no specific evidence to suggest that the wearing of face masks by the mass population has any particular benefit with regards to #COVID19." Yes, they are trying to protect the healthcare workers by allocating enough PPE for them to treat patients, but's it's just irresponsible for them to not advocate wearing face mask, even a cotton mask is way better than nothing.
Indian health workers spraying disinfectants on migrations causing outrage. (Source)
This should be the PPE that every healthcare worker wears.
Onwards.