You already know what COVID-19 is, let's get down to the updates. Updates will be in point forms with summary of the news articles or summary images. Let's refer to Movement Control Order as MCO in this page. Please call 03-88882010 or 03-88888126 or visit any police station nearby to inquire more information about the MCO.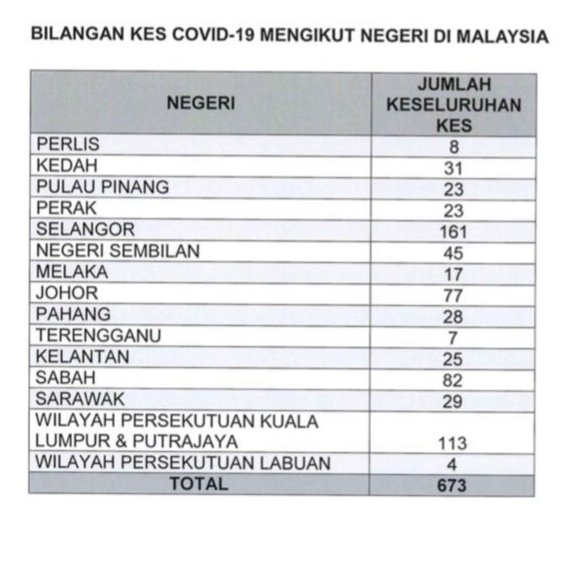 Head of Police has announced an inter-state travel ban except for special cases. (Source)
Written permit required for interstate travels, obtain from any nearby police stations. (Source)
Long lines are observed at every police station nationwide, deemed mass gatherings. (Source)
Head of Police withdraws inter-state travel ban as crowds are building up at police stations, fearing more infection spreading. (Source)
Gridlock traffic at Malaysia-Singapore border as vehicles try to leave Johor before the MRO. (Source)
FAKE NEWS NOTICE: Crowded TBS photo is an old photo. (Source)
Ministry of Higher Education lays down guideline for tertiary education institutes to cancel all classes and proceed to run online classes as well as close all non essential services.
Akta Polis 1967 is activated in the MCO (Link to PDF)
KKM Updates detailed COVID-19 testing figures updated. (Source)
Tested numbers at 9799, 6.87% positive overall, 10.59% positive from Tabligh Cluster.
Study shows that the COVID-19 persists for hours in air and days on surfaces. (Source)
Do your part and stay at home!